You want to go out shopping for a new & cozy pillow. There are some hints of buying a pillow. The first thing is to consider if you want a high or low loft pillow? When it comes to pillows, loft is a term or concept you need to know about. 
Loft refers to the height or thickness of your pillow. You can essentially replace the word 'loft' with 'height'. Some people want a thick and firm pillow, while some others want a low and soft pillow, depending on their needs.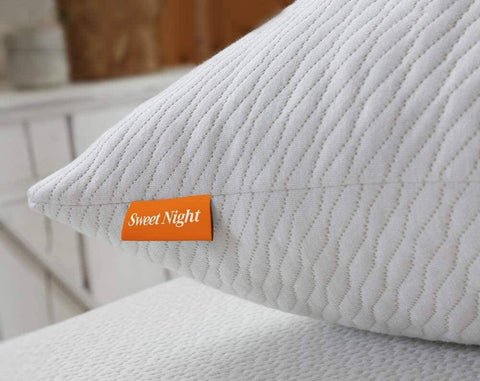 Under the market standards, there are 3 common loft measurement:
Low Loft: Less than 3 inches thick

Medium Loft: 3-6 inches thick

High loft: More than 6 inches thick
 A high-loft plush would refer to a thick pillow that is soft enough that your head can sink into it. On the flip side, a low-loft firm would refer to a thin pillow that has a hard and supportive surface, to keep your head propped up.
As you might find that a high loft pillow sinks down to a medium loft once you place the weight of your sleeping head on top of it. Choosing the right loft can greatly impact your sleep. The position you sleep in at night will help determine the right pillow loft for you.
The correct loft of your pillow entirely depends on how high your head would naturally sit on the mattress. Your pillow fills in that gap, allowing you to comfortably rest your head at an appropriate height.
Here are some factors to determine the height where your head naturally rests & how lofty your pillow should be.
Mattress firmness – You will sink lower into a soft mattress than you will into a firm one.

Body size/weight – A heavier or larger body places more pressure on a mattress, sinking further than a lighter or smaller body.

Pillow Placement – Sleeping on the edge of your pillow will see you need a loftier pillow than someone who sleeps in the center.

Shoulder size – For side sleepers, a broad shouldered person will need a higher loft pillow, because the shoulder width causes the head to sit higher off the mattress.

Head size – A larger, heavier head will need a loftier pillow than someone with a smaller and lighter head.
Overall, it is wise to choose a pillow which can adjust the loft by putting out or stuffing more pillow plushes or materials. Some pillows are made with zippers on the side for people to adjust the loft. Then, you will have a better control of how lofty should fit your needs. 


Sweet Night has a special concept of pillows called "Golden Ratio Design Of 35 degrees" that helps align the spine and relieve pain in your head, neck, and shoulders, retaining shape after regular use. Sweet Night pillows can satisfy all sleeping positions for back, side, stomach, face,... With the comfort of Sweet Night pillows, the end users can have a great long night sleep with a fantastic dream!